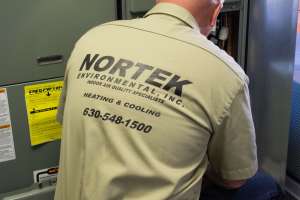 HEATING SYSTEM SERVICES
Whether your home has a furnace or boiler, in need of service or maintenance in a residential or commercial property, Nortek Environmental, Inc. is the best choice when it comes to servicing your home's heating system.
With more than 100 years of combined experience, you could not be in better hands when it comes to getting your home's existing heating system running the way you want it to. If a repair is all you need, every Nortek Environmental, Inc. technician is trained and certified to properly diagnose and repair every make and model of furnaces and boilers.
FURNACE REPAIR AND BOILER REPAIR
Having your home's heat stop working properly can be stressful. That's what from the moment you call in to Nortek Environmental, Inc. to schedule your Heating System service call, you will be greeted by individuals who care about getting your home warm again. From our office staff to our technicians, we will ask you questions about what's not working in your home, so we know we can properly address and diagnose exactly what you're experiencing.
We can guarantee you that your Nortek Environmental, Inc. Technician will be experienced, knowledgeable and professional. Before any repairs are completed on your furnace, we will discuss with you what our diagnosis found and what our professional recommendation is for your repair. We won't proceed forward with any further work until we have your approval to do so. Upon completion, you'll be provided a detailed receipt that will explain exactly what was completed at your home. Your technician will also be more than happy to assist you with any further questions you have during your appointment.
A great preventative measure to ensure your heating system doesn't give out during the middle of a cold snap is to schedule a pre-season 22-Point Certified Tune-Up, Cleaning and Inspection for your furnace or boiler. Your certified and trusted Nortek Environmental, Inc. technician will perform 22 tasks on your home's heating system to ensure that it is running properly and efficiently, as well as clean applicable components. If any possible issues are detected, you will be notified accordingly with our recommendation for how to address the found issue.
Our Heating Services
Furnace repair
Furnace service and cleaning
High-efficiency furnace
Heat pumps
Indoor air quality
Coil and duct sanitation
Home protection- smoke alarms, co detector, whole house surge protector
Whole-house humidifier
Duct repair/ reroute/ modification
Wifi/ smartphone thermostats
Residential zoning systems
Ductless mini systems
Weather sealing/ home efficiency
Thermostat service
Filter replacement
Attic Insulation
Nortek Environmental, Inc. Proudly Services Naperville & Our Surrounding Suburbs.
Our coverage includes but is not limited to: