Indoor UV Air Cleaner | Naperville HVAC 2020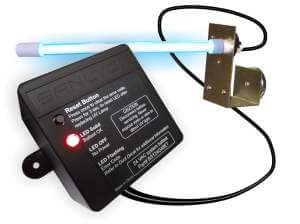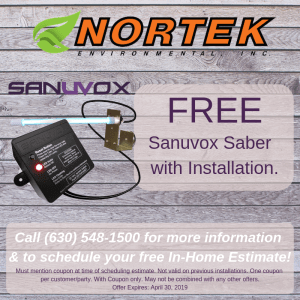 Summer is just around the corner, and, before you know it, your Air Conditioner will be working hard to keep your home comfortable. While keeping your home at a comfortable temperature is your first priority, you also want to make sure that your home's air is healthy. The truth is your Evaporator Coil, the indoor component of your air conditioning system, gets dirty. This can cause multiple problems in your home. Between strange odors, AC inefficiencies, and lowered air quality, it's best to take measures to keep your Evaporator Coil clean. The Sanuvox Saber Magnet 24 Volt Coil Cleaner is designed to keep your coil, and your home's air, clean and healthy.
Why do I have to worry about a clean coil?
Your evaporator coil is the indoor component of your air conditioning system. Simply put, your outdoor unit works to make your evaporator coil cold. When air travels through your evaporator coil, it becomes cold. That air is then transported throughout your home. As air passes through your evaporator coil, so are airborne particles & bio-chemical contaminants. These microscopic items find a new home on your evaporator coil. Overtime, they will grow and act as an adhesive, trapping dirt and other airborne particles passing through.
A Sanuvox Saber Magnet uses Ultraviolet technology to kill bio-chemical contaminants that find a home on your coil. The Sanuvox Saber Magnet is a stationery Ultraviolet light that is positioned over your evaporator coil to eliminate contaminants.
When your Evaporator Coil becomes dirty, it causes multiple issues:
Inefficiency: This extra layer makes it more difficult for air to pass through. Your Air Conditioner will have to work harder than normal to keep your home's air cold. A clogged Evaporator Coil can even cause Air Conditioner System failure.
Odors: When a layer of dirt and bio-chemical contaminants begin to grow on your coil, they produce an odor. Forced air will distribute he odor through your home, and will become more noticeable.
Unhealthy Air: As this layer grows on your coil, it can include mold, dirt and other particles. Sometimes, parts of this layer breaks off and travel throughout your home, leaving it to be breathed in, or lodged elsewhere.
How does a Sanuvox Saber Magnet Work?
Without becoming overly technical, the Ultraviolet bulb designed by Sanuvox and used in the Saber Magnet produces 2 types of light: UVV & UVC. These types of light also have the same wavelengths produced by the sun.
UVV: Works to oxidize odors and chemicals into non-offensive by-products, helping eliminate odors coming from the treated area.
UVC: Works to attack particles at the microorganism level to deactivate and destroy contaminants.
How do I get more information on the Sanuvox Saber Magnet?
For more information on the Sanuvox Saber Magnet, or to set-up an appointment to install a Sanuvox Saber Magnet at your home, please call our office at (630) 548-1500. We are more than happy to assist with any questions you may have!
Also, feel free to browse our website and past blogs for any further information.
You may also visit the Sanuvox Saber Magnet website by clicking here.
Are there any special promotions for installing a Sanuvox Saber Magnet?
Yes! For the month of April (2019) we are offering to install a free Sanuvox Saber Magnet 24 Volt Coil Cleaner with the installation of any complete system!
If you are interested in replacing your HVAC system and receiving a free installed Sanuvox Saber Magnet 24 Volt Coil Cleaner, please call our office at (630) 548-1500 to schedule your free in-home estimate. Be sure to mention this promotion at the time of scheduling your estimate. Offer expires April 30th, 2019.