HVAC Technician Jobs in Naperville: Join the Nortek Team
Do you know anybody with HVAC experience that is currently looking for a new job? We're growing! Nortek Environmental, Inc. is now hiring for Certified HVAC Technician Jobs in Naperville. We are currently hiring for both Certified Installer and Repair Technician positions to add to our team!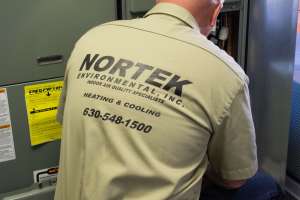 We're looking for individuals with the following qualifications:
Must Have At Least 2 Years of Installation Experience OR At Least 2 Years of HVAC Service Experience (Dependent on whether applying for Installer or Repair Technician Position)
Knowledge of Troubleshooting Heating and Cooling units
Knowledge of Commercial Roof Top Units
Knowledge of Installation of Furnaces/Boilers and A/C units.(Including sheet metal transitions on furnaces)
Knowledge of Electrical
Valid Driver's License with Insurable Driving Record
Must have Own Tools
Ready and Willing to Work
Reliable
Promote Excellent Customer Service Skills
Must be EPA Certified – Universal/Class II – for handling of refrigerants
Must be R401A Certified
Nortek Environmental, Inc. also offers the following benefits to eligible employees:
Great Salary Plus Commission
Paid Holidays
Paid Vacation
Health, Dental & Life Insurance
If you or anybody you should know is interested in applying for HVAC Technician Jobs in Naperville within our company, we encourage applicants to either email their resumes to nortekhvac@sbcglobal.net with the subject "Attn: Hiring Manager" or to fax your resume to (630) 548-1526.
If you should have any questions regarding any available positions within Nortek Environmental, Inc., please do not hesitate to contact our office at (630) 548-1500 and we will be more than happy to assist you with any questions that you may have. We're very excited with what the future has prepared for our company and cannot wait to add dedicated and hard-working individuals to our team!