How Important is Humidifier Maintenance?
At Nortek Environmental, Inc., we always stress to our customers the importance of HVAC maintenance. While getting your Furnace and Air Conditioner maintained on an annual basis is a fantastic start to reducing the likelihood of a breakdown and maintaining the efficiency level of your HVAC equipment, it's also important to maintain your home's humidifier as well, should your home have one.
One of the most important items to stress when it comes to Humidifier Maintenance is to replace your humidifier pad at least once annually. Your humidifier pad functions in a very similar fashion to your furnace's filters that are recommended to be changed on a monthly basis. Like your furnace filter, your humidifier pad removes any larger particles and debris that is moving through your unit, keeping them out of your home's air supply. You should replace your humidifier pads annually as failure to change out the pads could result in your humidifier running inefficiently or potentially damaging it. Nortek Environmental, Inc. stocks several types of humidifier pads for different makes and models, so if you are in need of one, please contact our office at (630) 548-1500. Additionally, Nortek Environmental, Inc. is your place to go for any Aprilaire pads and equipment that you may need for your Aprilaire humidifier. So if you have any questions regarding your home's Aprilaire humidifier, we also advise contacting our office where we will be more than happy to assist you.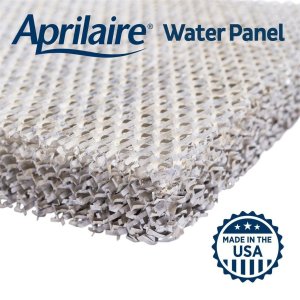 Another item that is important to keep in mind with humidifier maintenance is to clean your unit annually. Often times, scale, rust, hard water and other debris will accumulate in your humidifier during it's use. Don't freak out if it's there, it's normal! However, failing to clean your unit and rid them of buildup could be detrimental to your unit. Nortek Environmental, Inc. recommends lightly cleaning your unit at least once a year.
Finally, a great item to keep in mind when it comes to humidifier maintenance is to occasionally check to see if your unit is leaking at all. If you notice any water where it typically isn't, Nortek Environmental, Inc. advises that the customer stop using the unit until the leak source is detected and repaired. Running your unit while it is leaking could create larger problems with your humidifier and ultimately could lead to it malfunctioning.
If you ever have any questions regarding your home's humidifier and humidifier maintenance, please do not hesitate to contact Nortek Environmental, Inc. at (630) 548-1500. Also, Nortek Environmental, Inc. does offer Humidifier Cleaning Services that include Humidifier Pad Replacement. If you would like to set up an appointment to have Nortek Environmental, Inc. perform your annual Humidifier Maintenance, please contact us to set up an appointment.