Naperville IL Furnace Filter Changes
Naperville IL Furnace Filter Changes
Did you know that one of the easiest ways to ensure that your unit is running as efficiently as possible can cost less than $1 a month? That's right! One of the most common causes of your Air Conditioner or Furnace not running properly is due to a dirty furnace filter, one that may look like the filter in the image below.
Here are a few tips regarding how to properly change your furnace filter:
Your furnace filter should be changed monthly. Allowing your furnace filter to be used longer than that give the filter more time to accumulate dirt, dust, and other objects traveling through your duct work to build up.
Make sure you are using the proper sized filter. Using an improper size allows the dirt and dust you are trying to keep out of your furnace to still flow into it. Essentially, using the wrong sized filter is the same thing as not using a filter at all.
Don't use the pleated white filters. They are too thick and are preventing your furnace from breathing properly. It's much better to use the thin blue fiberglass filters. They're thinner material, which means your furnace will still have a proper air flow and the filter will still be able to catch the dirt and dust, and they're cheaper, which is always a plus.
Never run your furnace without the filter.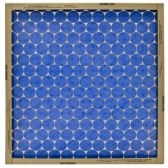 Not properly maintaining and replacing your furnace filters can easily result in malfunctions with both your furnace and air conditioner, including your air conditioner not cooling to the desired temperature or your furnace not heating to the desired temperature.
Purchasing a furnace filter is extremely simple. All major hardware stores sell most filter sizes. Even some grocery stores have the most common of filter sizes.
If you are having trouble locating a place to purchase your filters, please never hesitate to call us at (630) 548-1500 with any of your HVAC needs.