Prompt Heating and Cooling Service in Wheaton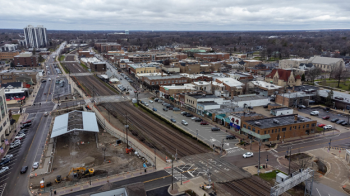 Are you looking to install a new furnace in Wheaton? Are you just looking to get a few more years out of your current boiler or heat pump? Whatever the case, make sure that Nortek is your first call. With a long list of services, great prices, and friendly people, you can be sure your experience with our Wheaton HVAC company will be good.
The great people we meet each time we are called out to a job in Wheaton are the best part of working on HVAC projects in this city. We get to meet customers and others we see when stopping by some of the great restaurants around town. We like to visit plenty of spots near Front Street after our work is finished for the day. These include The Burger Social and 302 Wheaton.
Thanks to the quality of our work, we've built lasting relationships with our customers in Wheaton, and we aim to do the same with you. Peace of mind comes from knowing exactly who to call when an HVAC problem pops up, and we look forward to being that comfortable call.
Call (630) 548-1500 to schedule furnace repair in Wheaton
Heating Repair and Replacement in Wheaton
When the cold weather moves into the Wheaton area, you must be sure that your thermostat and the furnace it controls can respond accordingly. That means the system should be able to easily keep the house at a comfortable temperature without burning too much energy along the way.
Unfortunately, many of the older homes in this area have furnaces that aren't up to that challenge, and too many residents deal with chilly nights and high utility bills as a result.
Nortek can come to the rescue. By calling us to replace your old furnace or repair your old boiler, you can enjoy the winter season and stay comfortable day and night. We invite you to contact us at (630) 548-1500 to schedule heating service in Wheaton.
AC Services All of Chicagoland Can Trust
You know how hot it can get if you have lived through even a single summer in Wheaton.
A good air conditioner is your best defense against the summer heat, so contact Nortek to discuss your options and consider installing a new AC unit to replace one that isn't getting the job done any longer. Or, if you're installing your home's first air conditioner in Wheaton, we can help with that as well. But not every job represents thousands of dollars in upfront costs! Sometimes, the solution to an AC problem might be a simple repair.
Even if you aren't ready to upgrade, some simple maintenance can help to make your whole family more comfortable. Trust our team to get the best possible results from your current A/C unit in Wheaton; you might be surprised by just how much cool air it can produce.
Air Quality
Clean air isn't something that you can afford to take for granted. Even inside, you can't just assume that your air is clean—if your home is like most others, it probably isn't.
With plenty of potential allergens and contaminants floating around, adding some modern equipment to your home with the intention of cleaning the air is a smart move.
Nortek is an Aprilaire Indoor Air Quality Specialist, and we have several options to ensure you breathe the clean air you deserve. Sometimes, it will be as simple as using a high-efficiency filter in the HVAC system. At the same time, other cases might call for a dehumidifier, UV lights, air purifier, or other advanced gear.
Maintenance Plans Are a Great Investment
There are many benefits to having a maintenance plan in place for your HVAC system in Wheaton. These include a lower likelihood of furnace or AC breakdown. In addition, the cleaning step of annual Wheaton furnace tune-ups helps boost system efficiency.
And, Nortek Environmental, Inc. is here to make this unceremonial part of homeownership easier. When you sign up for our Preventative Maintenance Agreement, you'll enjoy reminders that keep you on track with an annual maintenance schedule and get a discount on our services. Sign up today and get an annual 22-Point Certified Cleaning, Tune-Up, and Inspection for both your furnace and air conditioner.
Join our HVAC maintenance program in Wheaton and reap all the benefits.
Why Choose Nortek?
Picking a Wheaton HVAC company for your home or business is an important choice, and you will find that many businesses are out there fighting for your attention. Now that you've landed at Nortek, your search can be finished. You can get started on your repair or installation job right away. Incorporated in 2021, our team has worked in the HVAC industry for years and will always deliver great results at fair prices.
You'll never have to worry about being ignored or treated like another account with Nortek. We see all of our customers as our friends and neighbors because we are a local, family-owned and operated business. And, unlike many HVAC businesses, we have a woman manning the helm—one who understands the industry and customer care. If the kind of personalized, caring service that was common generations ago sounds good to you, go ahead and dial (630) 548-1500.
Nortek is your best bet for residential and light-commercial HVAC service in Wheaton and the surrounding area. We'll put our many years of experience to work for you to deliver great results for a fair price. Get in touch today or check out our reviews to learn more about what we can do for you.